Submitting images for competitions: be judicious, be ruthless in your selection
by Colin Gans, www.underwaterdisplay.net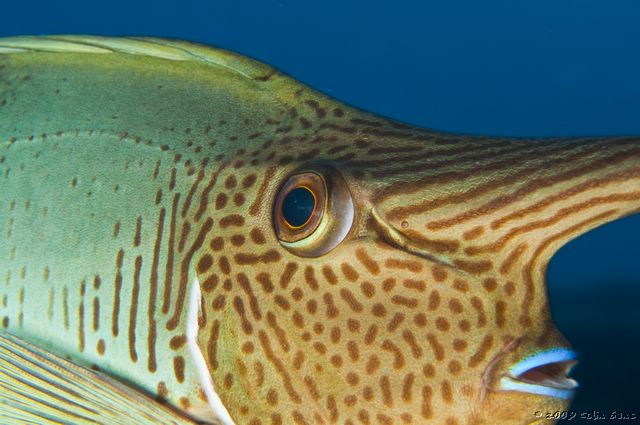 A friend with a sense of humor once responded to my enthusiasm at wanting to show off my collection of recently acquired underwater images from a trip to the Galapagos by saying, "I would love to see THE PHOTO". So maybe that's a bit extreme but the term 'death by photo' sometimes comes to mind when I'm being held captive by someone totally immersed in their new found creativity. In other words, developing a sense of empathy with the intended audience is an important part of winning a judge's vote.
Uniqueness is a key part of an image's Wow factor – what makes it stand out. Revealing too many takes of scene or subject can dilute the valued singularity which may have otherwise elevated the status of your submission. Even for the most advanced of photographers, being able to select and limit submission to a single image, in a genre, is a challenge which requires experience and discipline in addition to the artistic eye.
By using a 'scattergun approach' in displaying images or submitting entries to competitions, photographers are selling themselves short and in effect devaluing their intellectual property.
Being emotionally attached to an image can come about because it was made perhaps with extreme difficulty, at vast expense, with intrepid effort, or by other experiential factors which may affect the personal judgment of the maker. This can result in you personally favouring it over other images you have to choose from. But this personal perspective may be of less significance to the audience; if the image itself does not convey the full story. From the point of scoring that initial hit and capturing the viewers attention, the first impression counts.
So how does a photographer balance their personal sentiments to images against an audience not privy to the inside knowledge, who are encountering the work of art for the first time? When it comes to entering competitions the answer does not lie in submitting multiple versions of the same scene. A picture may speak a thousand words but two or more pictures of the same scene can reduce the initial impact. More is less...
Pre-screening: showing ones collection of candidate images to those long suffering friends, loved ones or anyone else willing to look while requesting objectivity and brutal honesty will go a long way towards filtering out the best choices. Final selection of just one-per-genre should be the last step.
Encouragement is of course an essential and admirable attribute of any mentor but when it comes to submitting for competitions brutal honesty by objective viewers can go a long way towards elevating a submission to winning or finalist status.
A single image, in essence, creates value. Conversely, submitting many takes of the same scene / subject (unless they collectively create a story) discounts the idea and devalues it. You only have one shot at 'selling' your image concept when entering the comp so make sure it counts.
Be judicious, be ruthless in culling out your selection, dare to be different and make what you show count!